2017 YOUNG PROFESSIONAL OF THE YEAR
JORDAN MCFARLEN
CONGRATULATIONS!

AARON BARTON (Conexus Credit Union) and JORDAN McFARLEN
Jordan McFarlen - Business Teacher, Campbell Collegiate High School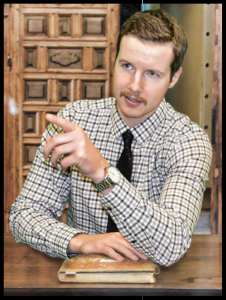 Since starting at Campbell Collegiate High School in 2010, Jordan identified the opportunity to motivate the next generation of innovators and entrepreneurs, and began working to grow the Campbell Business Program and the Saskatchewan Business Teachers' Association (SBTA). Throughout his career as an educator, he has taken the program from 160 students in 2010 to over 500 enrolled as of 2017, and has successfully implemented new course offerings such as Personal Finance and Business & Social Technology. Over the past 7 years, he has built a solid business focused program that has a strong emphasis on youth entrepreneurship, financial literacy, and career education.
His commitment, dedication and passion is infectious. He is a mentor and inspiration to his students both in the classroom and well after they graduate. With the long-term goal of building the top business program in the province and Canada, he worked with his team to expand course offerings, build program culture, improve enrollment, alumni achievement, participation in real world projects, and create meaningful partnerships across Canada. Mr. McFarlen's leadership and hard work in the development of the Campbell business program has resulted in them being named the Business School of the Year 4 times.
Jordan is Past President and current Executive Member of SBTA, initiating and managing partnerships worth $20K; Co-Founder of Big Idea Camp, an incubator-style entrepreneurship camp for teens in Regina, working with Strategy Lab Marketing and partnering with Conexus, Carmichael Outreach and others. He has also been selected as an instructor for the 2016 Junior Achievement Next Generation Leaders Forum (Global Youth Entrepreneurship Conference); and awarded the 2014 Saskatchewan Business Teacher of the Year. Jordan also volunteers with supporting sporting learning such as coaching basketball or golf to help students grow in other aspects of their lives.
Silver Spades Awards
The SYPE Silver Spades Awards support an entrepreneurial culture and promote professional excellence in Saskatchewan by recognizing our young leaders.
YOUNG ENTREPRENEUR OF THE YEAR
$5,000 cash prize powered by Conexus Credit Union

YOUNG PROFESSIONAL OF THE YEAR
$2,500 cash prize powered by Conexus Credit Union